Small Lesser Taratect is the initial spider species, and are the offspring of Queen Taratects.[1] They can be found in the Upper Stratum of the Great Elroe Labyrinth or the forest surrounding the Elf Village.[citation needed]
Monster File Description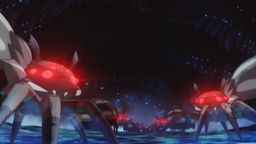 Weak. Danger level F, the lowest possible. In addition to being weak stats-wise, all it knows how to do is charge at opponents head-on, so it is simple to defeat. However, some individuals will occasionally build nests, which makes them much more dangerous. If a nest is discovered, it should be destroyed immediately. Both the spider's thread and the spider itself can be destroyed by fire.
Status

Small Lesser Taratect
LV1
Skill Points: 0
Stats
HP
26
MP
26
SP
26
26
Offense :
8
Defense :
8
Magic :
8
Resistance :
8
Speed :
8
Skills
Poison Fang LV1 • Spider Thread LV3 • Night Vision LV9 • Poison Resistance LV1[2]
Evolution Conditions
Gallery
Light Novel
Manga
Anime