Schlain "Shun" Zagan Analeit formerly known as Yamada Shunsuke (山田俊輔) is one of the students who was reincarnated from Japan. He is the fourth prince of the Kingdom of Analeit.
Appearance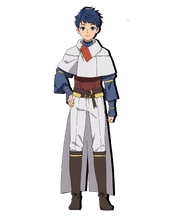 Shun is a young man with dark blue hair and green eyes, an average height and a plain body. Like all reincarnations, his appearance has been described as attractive. In his time in the academy he used a Blue shirt with yellow decoration on the wrist and elbow and a light brown cape with red and blue decorations on the neck.
Personality
Schlain is a kind-hearted young man who can be a little dense at times; he tends to be too trusting and honest. His kindness is such a predominant part of his personality that he finds taking the life of anything with a sense of self-difficult or even painful. This trait allows him to gain the title Ruler of Mercy and the skill Mercy.
When Katia and Feirune are discussing the aspects of their reincarnation, Feirune mentions that it is impressive that Shun has been able to remain thoroughly average in his new life, even though he is a prince and considered a genius. Additionally, it has been noted that the one part of his personality that can be be described as something other than "average" is his strong sense of responsibility. Besides this, Schlain tends to both underestimate the strength of his opponents and overestimate the strength of his allies. This is linked to his thoroughly average personality. He tends to view himself as "not special" even though he is exceptional. This causes him to accidentally put his allies in harms way.
Due to his naïveté, Schlain has shown to be oblivious the world of politics that the rest of his family lives in. This is seen in his failure to notice the obvious malice the Queen and his older half-brother had for him and did not question why he was never properly educated. He was similarly unaware of his younger sister's romantic fixation with him. All of these oversights would eventually endanger both himself and his friends later on.
Relationships
Abilities
As a reincarnation, Shun enjoys additional status boost during his training, allowing to be stronger than peers at his age. He also consider a prodigy by others. Furthermore, he has trained and engaged in sparring sessions with his brother, the world's Hero and who has commented Shun's talent for combat will likely overtake him in the future.
Summoning: Shun has formed a contract with Fei and can teleport her to his side from anywhere in the world with the Summoning skill.[1]
Divine Protection: Shun's unique reincarnation skill, which makes it easier to achieve the desired result in any situation. This skill was probably at least partially responsible for breaking Hugo's control over Katia.[2]
Appraisals
Volume 1-S2: Reincarnation
Human
LV1
Skill Points: 100,000
Schlain Zagan Analeit
Status
HP
35
MP
348
SP
35
35
Average Offense Ability :
20
Average Defense Ability :
20
Average Magic Ability :
314
Average Resistance Ability :
299
Average Speed Ability :
20
Skills
Mana Perception LV8 • Mana Operation LV8 • Magic Warfare LV6 • Magic Power Conferment LV5 • Magic Attack LV3 • MP Recovery Speed LV7 • MP Lessened Consumption LV2 • Swordsmanship LV3 • Destruction Enhancement LV2 • Mental Warfare LV2 • Energy Conferment LV1 • Concentration LV5 • Hit LV1 • Evasion LV1 • Vision Enhancement LV4 • Auditory Enhancement LV7 • Olfactory Enhancement LV2 • Taste Enhancement LV1 • Tactile Enhancement LV1 • Life LV5 • Magic Mass LV8 • Instantaneous LV5 • Persistent LV5 • Strength LV5 • Solidity LV5 • Alchemist LV8 • Protection LV7 • Running LV5 • Divine Protection • n%I=W
Titles
None
Trivia
In the Web Novel Shun's dragon isn't a reincarnated student.
Shun's best magical affinity is Light, followed by Water.
Community content is available under
CC-BY-SA
unless otherwise noted.