All dragons (龍) are born as wyrms (竜), and only become dragons after evolving several times. Although wyrms are considered sub-dragons, some can be just as strong as dragons.[1] Becoming a dragon means becoming a new species, of which the the individual is the only member.[2]
Species
Fire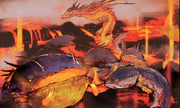 Elroe Debegiad: The unevolved fire wyrm.[3]
Elroe Gunerush: Weak and unintelligent. Also known as seahorses.[4][5]
Elroe Guneseven: Cautious and gluttonous. Also known as catfish.[6][7]
Elroe Gunerave: Powerful and intelligent. Also known as eels.[8][9]
Elroe Gunesohka: Defensive leaders that command lesser wyrms.[10][11]
Rend: A dragon with well-rounded stats. The overlord of the Middle Stratum.[12]
Guen: An ancient dragon.
Earth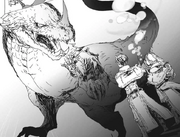 Elroe Kolift: Unevolved earth wyrms. Black, wingless and chameleon-sized, with a life span of around ten years.[12][13]
Fenerush: Domesticated yet prideful. Used to pull carriages.[14]
Fenesist: Similar in shape to a Fenerush, but is capable of magic, making for a powerful mount.[15]
Fenegrad: Looks like a t-rex.
Ekisa: A young dragon without any particular speciality.[16][17]
Fuit: A controlling earth dragon with superb instincts.[18]
Gehre: A speed specialist that can attack from unexpected directions.[19][20]
Kagna:[21][22] A defence specialist that charges its opponents.[23][20]
Araba:[24][25] All-rounder capable of powerful earth magic and strong physical attacks.[26][25]
Gakia: The guardian of the Great Elroe Labyrinth's Bottom Stratum, the leader of the Earth Dragons, and the strongest of the Earth Dragons.[27]
Water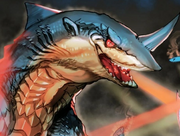 Suiten:[28][29] Looks like a pufferfish.[26][30]
Water wyrm: Looks like a huge shark.[31][32]
Water dragon:[33][34] Looks like a plesiosaur[35]/Loch Ness Monster.[34]
Wind
Peirens: Looks like a wyvern.[36]
Hyuvan[37] Guardian of the Wastelands and leader of the Wind Dragons
Light
Peorat: Palm-sized lizard.[38]
Feirune:[39] Born as an earth wyrm, awarded the Light Wyrm skill as a result of being the Hero's familiar.[40]
Byaku:[41] Guardian of the Hero Sword.
Dark
Ice
Nia[43][14] Guardian of the Mystic Mountains and leader of the Ice Dragons
「Fire Wyrm LV10」」►「Fire Dragon LV10」►「???」
All wyrms have a Wyrm skill, and all dragons have a Dragon skill.
As the Fire Wyrm skill increases in level, it grants new abilities:
Before level 10, Light Wyrm grants the Humanification ability, which gives the user a human body to match their mind.
「Dragon Scales LV10」►「Imperial Scales LV10」►「Divine Scales LV10」
The Dragon Scales skill is awarded by evolution to Catfish and upgraded to Imperial Scales in Gunesohka. The only known holder of Divine Scales is Araba at level 32.
The Dragon Scales skill causes scales to grow over the creature's body, increasing its defense and resistance abilities by directly interfering with the composition of magic.[7]. Imperial Scales is simply a stronger version of the same effect.[45] On Sophia, Divine Scales has the effect of growing white scales on her body.[46]
「Wyrm Barrier LV10」►「 Dragon Barrier LV10」►「Divine Dragon Barrier LV10」
These Skills produce a barrier that has similar properties to Dragon Scales. They are only purchasable via Skill Points only after killing a wyrm for non-wyrm species.
The Divine Dragon Barrier is strong enough to even hold back Ariel. Six of the nine earth dragons of the Bottom Stratum have the skill.[47]
Titles
Dragons have the Dragon title. The Dragon title is the evolution of the Wyrm title.
Trivia
Wyrms and Dragons count separately towards hunting titles.
Professor Oriza teaches her class about wyrms and dragons.[48]
The Wyrm Power skill awarded by the Wyrm Slayer title is an inferior version of Skills like Earth Wyrm
The Flame Breath ability can be dispersed by Light Attack.[49]
Dragon Scales are eroded by Deadly Poison.[50]
The first evolution of Elroe Kolift is approximately three feet long, and has around 700 in each stat.[51]
In volume 1-S3, wyrm (竜) was translated as "dragon" and dragon (龍) was translated as "naga".[52]
According to Ariel, earth dragons have the blood of samurai. She thinks they're generally the most decent type of dragon.[53]
Community content is available under
CC-BY-SA
unless otherwise noted.