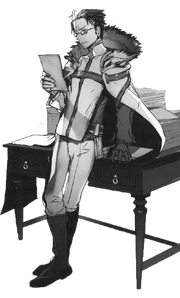 See also: Goblins, Humans, Elves
Demon (plural: demons) are humanoid beings from the other world. They closely resembled humans, they are characterised by their longer lifespan, higher average stats, abilities and possibly slightly more body hair. [1][2]
They are considered an antagonist faction by the humans, especially by the bordering Renxandt Empire, which has regularly engage in warfare with the Demon Realm, where are majority of the demons are located at. While they are significantly stronger than humans, they are balanced out by their lower birth rates.
Culture
Demons live in a meritocratic and survival of the fitness society, where talent and strength is more valued than birthright and origins. It is observed they lived in a most agricultural centred society and economy, due to they the vast farmlands they occupied.
Unlike some of the human nations, they do not seem to have a state religion.
Races
Demons: While closely resembling humans, they are known for their longer life span and higher average stats.
Succubi: A subrace of demons that are exceptionally charming and crafty.[3]
Notable Characters
Community content is available under
CC-BY-SA
unless otherwise noted.